Kimberly Demmary


Ghost Girl Paranormal Founder/Paranormal Investigator with the Paranormal Housewives/Actor/Writer
Welcome! I am so thrilled you stopped by. My name is Kimberly Demmary and I am the founder of Ghost Girl Paranormal.
My love for the all things ghost goes back so far in my life that I don't even remember it!  I am told that when I was very young, and much to my delight, my toys used to move around my room on their own.  But my earliest recollection is when I was about 6, a tall shadow-man would visit me and stand in the corner of my room.  He was tall, gangly and reminded me of Abraham Lincoln and so that's what I have always called him.  I was probably studying presidents in class or something, who knows!  My childhood home was very spooky, with long dark hallways, but I don't remember ever being afraid of my Mr. Lincoln shadow-man.
I guess this was a precursor to what I will later become.
I have three major goals in mind when creating Ghost Girl Paranormal.  First goal…paranormal investigations of course! My total passion. I work with a dream team of investigators and tech crew (the Paranormal Housewives) to search out answers that lie just beyond the grave. We enjoy the jaunts in America's most haunted locations but we also strive to assist families in learning more about their spectral house guest, and how to live together under one roof.
Another goal is creating a fun and beautiful ghostly clothing line for women and children.  My GGP partner Anna Measures may not be interested in running around haunted buildings in the dead of night with me, but you wouldn't know it by her hauntingly beautiful designs!
Check out our GGP Apparel page here.
My third goal was to create paranormal knowledge.  As you know the paranormal investigation community is massive, there are so many teams out there yet I feel there is a slight disconnect in the field.  So I have always wanted to create a website to use as a paranormal forum connecting our ghostly community.
I want to give other paranormal lovers out there the same opportunities to grow and I am asking you to help me with that.  I am looking for folks to come on our GGP website and share their knowledge, their helpful hints, the tools they use, and their exciting and wonderful paranormal experiences and even awesome findings!
I am also a team investigator with the amazing Paranormal Housewives. You can find our website at
https://paranormalhousewives.wordpress.com/
(UPDATE: Currently on hold while looking for new hosts so please stay tuned)

I host of the all female radio show Haunted After Hours.  It's a show with a female perspective on all things that go bump in the night! Be sure to listen!
Visit Haunted After Hours website

here
I am excited to meet you and eager to hear what you have to say.  Lets start connecting!
You can follow Ghost Girl on twitter here.
and on Facebook here.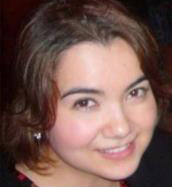 Anna Measures
Ghost Girl Paranormal Apparel Designer
Hi There!
I'm Anna Measures, the designer that collaborates with Kim for
Ghost Girl Paranormal.

Working with such passionate people like Kim is wonderful – her enthusiasm and desire for creating a safe community is infectious & inspiring.
But I'm here to admit it — I'm a Chicken.
Growing up with a Thai Mom, ghosts were taboo. I don't know if it's because it's an old country and more superstition, there's a ghost story around every corner.
I attended a boarding school in Pak Chong, Thailand. At night, my dorm mates would tell ghosts stories of places on campus deemed Haunted. Places that were to be — Avoided At All Costs. I still avoid haunted places today.
I admire Kim & all those who explore the Paranormal, all whose curiosity is stronger then there fear.
I'd like to Thank You, for not only knowing there's more to life then what's on the surface, but by being brave by sharing your own experiences with others – so a scaredy-cat like me can know it too, from a safe distance.
I can't wait to hear what you've found! I'll be reading…with all the lights on. 😉
Anna Measures is a Commercial Creative, her online home is at www.annameasures.com
You can follow Anna on twitter here.