Happy Holidays Boo You!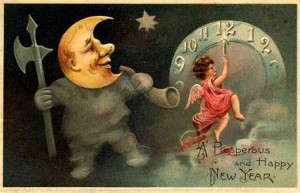 As Halloween and Thanksgiving and Christmas come and go and another year winds down, like everyone else, I think about all my friends and family and everything that has happened these last 12 months. But I also think about the spirit world, and their "holiday".
I was fortunate enough to investigate a few locations on some holiday evenings.  And I must say, it did change the way I conducted our time there.  One New Years Eve, our EVP sessions were discussions of the year that was closing in on us, hours away, and regaling the spirits of all that happened around the world that year.  Sort of a yearly re-cap.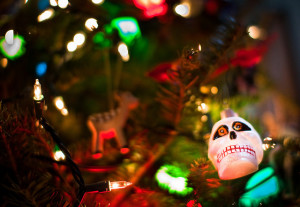 On Christmas and even a fellow investigators birthday, we asked about gifts and their remembrance of Christmas or their own birthday parties.  We've played music for the holidays, sang Happy Birthday.  And it wasn't to prod and poke at them to get a response, but a gesture of love, really.  Think about it…when was the last time they heard a Christmas song, or "Happy New Year" echoing through the dark empty halls?  It was our way to include them.
I think of spirits as people.  With feelings and memories just like you and me. So speaking to them as if they can truly think and feel, in real time, but can't seem to burst that thin layer that separates our world from theirs, in my opinion is a respectful and kind.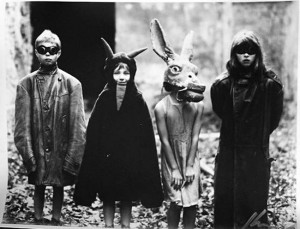 But I wonder…do they miss it?  Do think of holidays?  On Halloween, do they peer out the window from the upstairs bedroom and watch the children parade up and down the street in costumes, that they probably don't even recognize any more?
Perhaps they have no concept of time, they don't know it's Thursday the 25th and Christmas, unless we remind them, or they are fortune enough to haunt a house with a BIG green tree with beautiful lights they can enjoy.  I guess there is the chance of a down side.  Possibly remembering something like a fond holiday could add to the sadness they already feel of being alone, or maybe not knowing why they are there, or how to leave.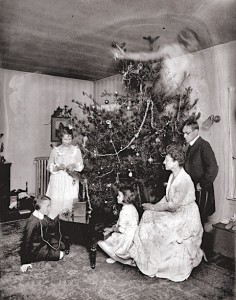 It brought me joy to share the holidays with them and I like to hope they enjoyed it too. It's my little contribution in connecting them to the physical world they once knew and loved so much.
Happy New Year from Ghost Girl Paranormal! I hope you have a safe yet wonderfully haunted 2015!